Materials of best quality
If you love the mattresses on which one sleeps best, as Schlarafia has done for 80 years, only the best materials will be selected for your clients. And you do not save on it.
Materials from which Schlarafia mattresses are made are of the highest quality: from the handmade Bonell wire core to elastic, heat-set felt and coconut fibers to various types of foams and covers. In our shops the material samples from which mattresses are made are shown. Although the difference is not immediately apparent to the naked eye, it is quite noticeable. And if, after only a few nights sleeping on the Schlarafia mattress, you realize that you have made the right decision, the feeling will be even better.
Every Schlarafia mattress is guaranteed for 15 years. This is the minimum number of years in which we guarantee that the mattress properties remain unchanged. The mattress can of course be used for years afterwards. However, our advice is that you will really change your mattress after 15-20 years. You will sleep better, have more energy and you will feel much better and livelier.
Schlarafia has selected the materials for you. Hard-working and skilled hands made the mattresses. It is up to you to relax and really rest.
SPRING CORE
The handmade Schlarafia spring core consists of Bonell springs made of 2.2 mm thick, patented steel wire and spiral connections made of 1.35 mm thick, patented steel wire. The handmade core is better than the machine made for several reasons: the density of the machined springs is 99 springs per square meter, while the handmade Schlarafia core has up to 132 springs on the same surface. The handmade springs are reinforced with additional lateral connections, so that a spring is never loaded alone, but transfers the load to surrounding springs. Therefore, the core lasts much longer and retains the same properties over many years.
Therefore, Schlarafia grants a 15-year guarantee on all mattresses with a handmade spring core on the immutability of the core properties.
Thanks to this spring-core technology, reminiscent of lace knitwear, Schlarafia mattresses can be ordered in any shape and size.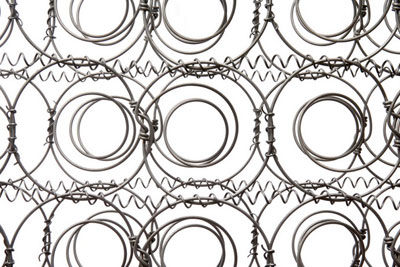 PRESSED COCONUT FIBERS
Pressed coconut (coconut plate) consists of coconut threads which are connected with latex milk (made of rubber wood) and it is a 100% natural material. It is used in the manufacture of a spring mattress to make a mattress protection layer which, as the word itself says, protects the core and ensures the durability of the mattress. Pressed coconut is a material that is very permeable to air and extremely durable.
FOAMS
The foams used by Schlarafia in the manufacture of mattresses with spring core as well as foam mattresses are superior in quality and have no competition for elasticity, durability and air permeability of the foam.
They are all made in "open-cell" technology, which means these foams have excellent aeration ability and excellent thermal properties – moisture does not stay inside them and the foam is unhealthy for bacteria and mites.
Foams differ in density and raw material composition. While most mattresses use polyurethane foam (actually sponge) with a 25 kg/m³ density, in Schlarafia we use foams with 35 kg/m³ up to 65 kg/m³ density.
According to the composition, following foams exist:
High Resilience Foam (HR) is a polyurethane foam with high elasticity and durability, which is produced in "open-cell" technology. This sleeping mat is comfortable because it provides an excellent microclimate during sleep. Of all foams, HR foam is the fastest to return to its original state after being pressed.
Latex foam is made of rubber and is a 100% natural material. Schlarafia mattresses are made from certified, high-quality latex foam which is made entirely from rubber of 65 kg / m3 density in open cell technology, which is characterized by excellent thermal properties. Also, moisture does not remain and the foam is unhealthy for bacteria and mites. This foam has exceptional physical properties: an ideal molecular structure that resembles the muscle tissue of living things, giving it an excellent balance of strength and adaptability. The impression that most people have when lying on latex is a "firm softness". Such an impression is the result of a real physical relief of the contact points with a base (so-called load point), combined with a sufficient support of the spine. The result of sleeping on latex foam is a peaceful, continuous, relaxing sleep.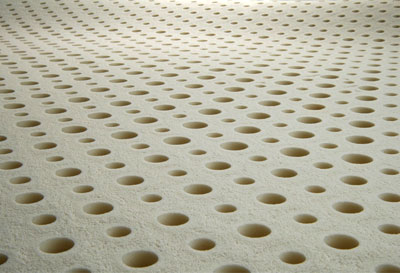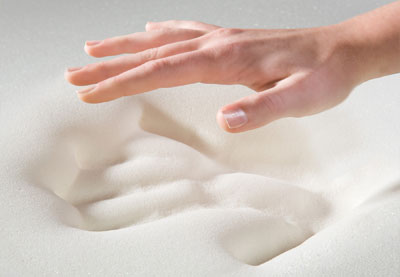 MEMORY FOAM
Memory foam or memory foam was developed in NASA laboratories. The composition is an elastic polyurethane foam with a 65 kg/m3 density. It is made in an "open-cell" technology that ensures good ventilation of both the material and the mattress made from this type of foam, and prevents the appearance of bacteria and mites. The main feature of this foam is its excellent adaptability to the body of the sleeper, which provides superior comfort.